Arkalon Cemetery
Seward County, Kansas
This cemetery started in 1880 is currently in use at this time and is somewhat maintained. This cemetery is off the beaten path and is located from Liberal on Hwy 54 starting at last stoplight heading East 6.3 miles and then turning left off Hwy 54 onto O road and crossing set of RR tracts and continues 2.7 miles and cemetery is on your right hand side. This road is sandy and the area is snakey (rattlers) and visitors need to use caution when visiting the area during warm months.
The remains of Arkalon (R-K-len) can be seen from the cemetery and all that is left standing is an old school house and a blacksmith shed. This abandon town is about 2 miles from the cemetery and is gated off to trespassers. Photos of the cemetery and school are available on this website. I myself walked and documented this cemetery on April 23,2002 and recorded the following names. The record keeping for this cemetery is poor and if you personally know and have proof of a person buried here and I don't have that person listed, please feel free to contact Laura Youtsey-Ball to make corrections, as there are several unknowns in this cemetery without names or dates and we would like to make sure that we get everyone listed that needs to be.
Information compiled by Laura Youtsey-Ball and
submitted 24 April 2002. With additions added by Oz.
S/W means stone shared with.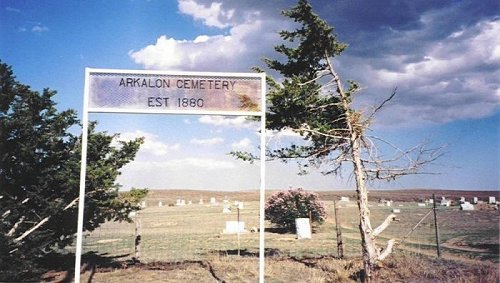 File Description
Image
Adducci, Colleen K.
Image 35K
Andreotta, Dorothy H.
Image 45K
Andreotta, James D Sr.
Image 45K
Barker, Joshua Michael
Image 43K
Botts, Amy Belle
Image 47K
Botts, James Robert
Image 47K
Browne, Clifford H. Jr.
Image 53K
Browne, Clifford Hilton
Image 36K
Browne, Maxine Pritchard
Image 36K
Byers, Maude
Image 33K
Carpenter, Aron David "Davey", Jr.
Image 45K
Carpenter, Gary John
Image 45K
Coffel, Betty Ann Fieldman
Image 42K
Cook, W. W.
Image 57K
Cook, Wanda Lee
Image 29K
Cook, Willetta Clair
Image 30K
Cox, Margret
Image 89K
Cox, Martha Jane
Image 53K
Davis, Albert L.
Image 43K
Davis, Barbara Stout
Image 43K
Day, Marilyn F.
Image 34K
Dennis, Mary Harvey
Image 46K
Dyck, Heinrick F.
Image 47K
Etzold, Baby
Image 30K
Farmer, Scott David
Image 36K
Fitzgerald, Daniel Luke
Image 45K
Forbes, Alberta C.
Image 32K
(Forbes), Baby S
Image 64K
Forbes, H. M.
Image 70K
Forbes, Helen M.
Image 36K
Gorsline, Berte
Image 41K
Gray, John A.
Image 46K
Gurn, Jennie L.
Image 47K
Gurn, Lee A.
Image 48K
Hall, Gertrude
Image 41K
Harvey, Abbie Elnora
Image 41K
Harvey, Absalom
Image 41K
Harvey, Absalom B.
Image 44K
Harvey, Billy D.
Image 44K
Harvey, Carole
Image 35K
Harvey, Charles Fred
Image 18K
Harvey, Chet
Image 41K
Harvey, Clarence S.
Image 43K
Harvey, D. Ruth
Image 41K
Harvey, Donald Vincent
Image 47K
Harvey, Donald W.
Image 80K
Harvey, George
Image 32K
Harvey, James L.
Image 45K
Harvey, James Ross
Image 41K
Harvey, Joseph Lee
Image 46K
Harvey, Margaret M.
Image 44K
Harvey, Richard Lyle
Image 44K
Harvey, Robert R.
Image 35K
Harvey, Ruth A.
Image 41K
Harvey, Steven Joel
Image 51K
Harvey, Thomas V. Jr.
Image 41K
Harvey, Thomas Viven
Image 41K
Henline, Etta
Image 44K
Henline, Oala
Image 35K
Henline, Orville
Image 39K
Henline, Sarah M.
Image 40K
Henline, William R.
Image 40K
Hensley, Tony Marie
Image 36K
Hirn, Betty R.
Image 35K
Hirn, E.
Image 41K
Hirn, John H.
Image 34K
Hirn, Mary Etta
Image 35K
Hirn, Minnie E. Lawrence
Image 35K
Hirn, W. E. Bill
Image 35K
Hoag, Warren Burdett
Image 34K
Holder, Bob
Image 39K
Hubbard, Lynda
Image 35K
Hutchinson, Charles M.
Image 42K
Hutchinson, Freddie L.
Image 55K
Hutchinson, Nellie V.
Image 42K
Jackson, J. H.
Image 67K
Johnson, Carl V.
Image 38K
Johnson, Kail Lee
Image 39K
Johnson, Xyla L. Norton
Image 38K
Lassiter, Lydia
Image 32K
Mcnitt, Stella Cook
Image 44K
Nelson, A.J. "Blackie"
Image 64K
Nelson, Leona - First Marker
Image 64K
Norris, Darlene O.
Image 45K
Norris, Emma Frances
Image 49K
Norris, John W.
Image 43K
Norris, Mellie
Image 40K
Norris, Royal R.
Image 51K
Oberley, Adam J.
Image 34K
Oberley, Lottie Henline
Image 35K
Ormiston, Mary Sanger
Image 31K
Ormiston, U. G.
Image 34K
Peek, Claude H.
Image 77K
Peters, Judy H.
Image 88K
Peters, Lisa Hiebert - First Marker
Image 33K
Peters, Tina Hiebert - First Marker
Image 32K
Peterson, Myrtle A.
Image 39K
Peterson, William M.
Image 39K
Phillippe, Jack
Image 43K
Phillippe, Judy
Image 43K
Phillips, Elizabeth
Image 42K
Phillips, Lawrence A.
Image 42K
Phillips, Mary D. Harvey
Image 39K
Phillips, Vernon W.
Image 53K
Pickering, O. L. Daley
Image 42K
Prichard, Thelma I.
Image 49K
Rawlings, S. J. Rusty
Image 34K
Reeves, Mitchell
Image 31K
Root, Henrietta
Image 37K
Root, Henry Emerson
Image 33K
Schupman, Benjamin
Image 35K
Schupman, Glenna G.
Image 41K
Schupman, Hubert
Image 75K
Schupman, Richard
Image 48K
Simmons, Frances A.
Image 40K
Simmons, Hardy F.
Image 40K
Stefan, Frank
Image 41K
Stefan, Mabel E Stout
Image 41K
Stewart, Leona Hirn
Image 38K
Stout, Baby
Image 41K
Stout, Lena May
Image 69K
Stout, Lena May & Baby
Image 43K
Sullivan, Avery Absalom
Image 29K
Sullivan, Grace E. Harvey
Image 41K
Summers, Hansford I (Hank)
Image 45K
Summers, Joyce Marie
Image 45K
Ward, Tom
Image 29K
Widener, John H. - Closeup Image 75K
Image 36K
Widener, Lorena J. (Benson) - Closeup Image 75K
Image 36K