Restlawn Cemetery
Seward County, Kansas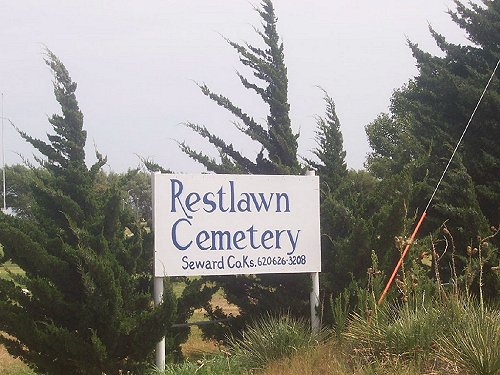 Founder of Restlawn is Daniel J Wise 1912-1982.
This cemetery is divided into front and rear sections which are further divided. When you enter the cemetery (the front section), on the right, are Savior and Masonic, in the center are Veterans and Last Supper, to the left are Devotion and 4 Seasons.
The rear section is divided into narrower sections. To the far right are Garden of the Shepherds ( Map) and Garden of the Stars (Map), just off of center and to the right are Garden of the Cross (Map) and Garden of the Angels (Map). To the far left, is Apostles.
Click here for the full-sized map of Restlawn Cemetery
Information compiled by Laura Youtsey-Ball and
submitted September 2, 2002 through August of 2007.
With additions added by Oz.
Text Version (Including Section, Block, Lot Owner)
Surnames: ABB-FER | FET-LIP | LLO-SKI | SMI-YOU
HTML Version (Including Section, Block, Lot Owner)
Surnames: A - E | F - K | L - R | S - Z
Photos of Tombstones by Surnames (In Progress)

A | B | C | D | E | F | G | H | I | J | K | L | <!a href="restlawn-m.htm" target="_blank">M |
<!a href="restlawn-n.htm" target="_blank">N | <!a href="restlawn-o.htm" target="_blank">O | <!a href="restlawn-p.htm" target="_blank">P | <!a href="restlawn-q.htm" target="_blank">Q | <!a href="restlawn-r.htm" target="_blank">R | <!a href="restlawn-s.htm" target="_blank">S | <!a href="restlawn-t.htm" target="_blank">T | <!a href="restlawn-u.htm" target="_blank">U | <!a href="restlawn-v.htm" target="_blank">V | <!a href="restlawn-w.htm" target="_blank">W | <!a href="restlawn-x.htm" target="_blank">X | <!a href="restlawn-y.htm" target="_blank">Y | <!a href="restlawn-z.htm" target="_blank">Z